The World's Finest Air Compressors
Compressed air is a crucial requirement of many processes in industrial manufacturing plants. It is used as a power source for tools and equipment, and for pressurizing, atomizing, agitating and mixing applications in a multitude of industries.
In collaboration with Quincy Compressor, the CB Process product line with include the finest, reliable compressed air solutions on the market.
CB Process is the only Quincy Royal Channel Partner offering full and extended warrantied Quincy Compressor products throughout British Columbia, Alberta, and Saskatchewan.
We pride ourselves on our local inventory and local service capabilities.

Air Treatment Equipment
Quincy Compressor air treatment and condensation management equipment is engineered to work with all rotary screw and reciprocating compressors. The air dryers, condensation management and other air filtration equipment has been designed to provide exceptional performance in all applications and is backed by an excellent warranty that guarantees years of trouble-free use.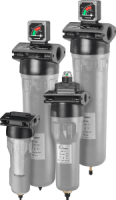 Natural Gas Compressors
A natural gas compressor increases the pressure of a gas by reducing its volume. The natural gas enters the cylinder through the intake valves, where it is compressed and forced out through discharge valves. A gas compressor is one form of natural gas compressor that is used in a wide range of industrial applications where either high pressure or lower volumes of gas are required.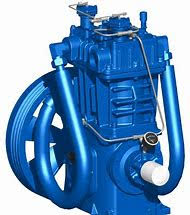 Oil-Free Compressors
In critical environments, it is essential that the compressed air is 100% oil-free. Contamination by even the smallest quantities of oil can cause costly production down time and product spoilage, resulting in product recalls and loss of reputation.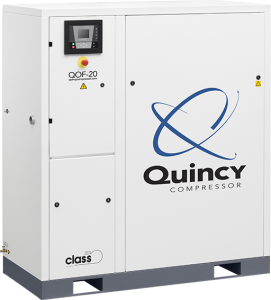 Pressure Lubricated Reciprocating/Piston Air Compressors
A reciprocating air compressor is a positive displacement compressor that uses a crankshaft-driven piston and cylinder to compress the air. A single-stage reciprocating piston compressor works by drawing the air into the cylinder where it is compressed in a single piston stroke of approximately 120 PSI and then sent to a storage tank. A two-stage compressor includes an additional step where the air is compressed by a second, smaller piston to a pressure of up to 175 PSI.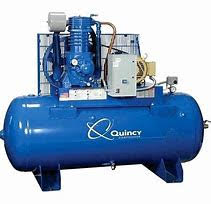 Lubricated Rotary Screw Air Compressors
A rotary screw air compressor is a positive displacement compression system that includes a pair of matching helical screws. An oil-flooded rotary screw compressor includes a lubricant that fills the gap between the rotors, which creates an air-tight hydraulic seal and transfers mechanical energy between the two rotors. The air moves through the threads as the screws rotate, and the meshing screws force the air through the compressor.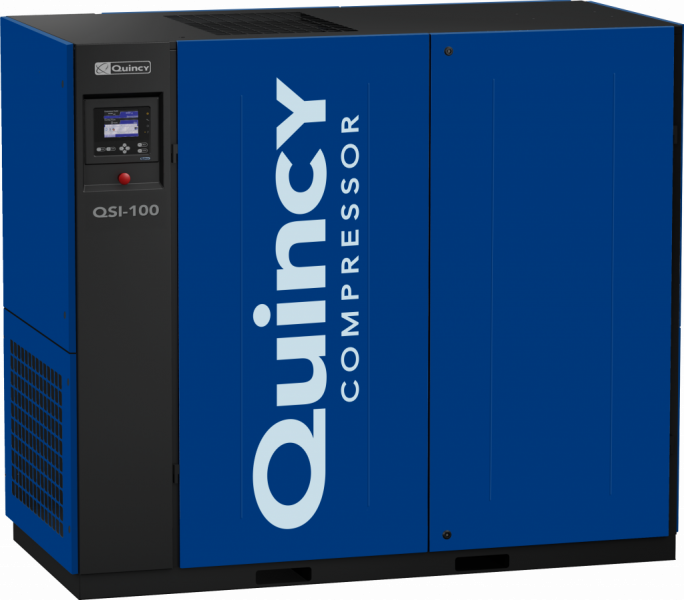 Vacuum Pumps
Quincy vacuum pumps are used worldwide due to their uncompromising reliability and unbeatable performance. There are various Quincy vacuum pump models to choose from, ensuring you'll be able to find the right one for your applications.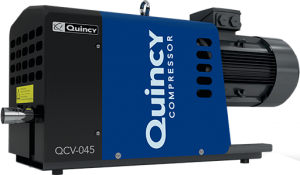 How To Increase The Efficiency Of Your Air Compressor
Compressed air can often be one of the most expensive forms of energy for manufacturing plants, with one horsepower of compressed air requiring eight horsepower of electricity. Many air compressors run at efficiencies as low as 10 percent, leaving plenty of room for improvement.
When it comes to improving this efficiency, it's important to examine the entire system. This includes the air compressor, supply lines, air storage tanks, air dryers, receivers and after-coolers. By making the right adjustments to your compressed air system, you can save significant amounts of energy and money.
Improve your air compressor's efficiency with the following steps:
Improve the Air Intake Quality
Control the temperature, composition and humidity of your air intake. Cooler air requires less energy to compress. Clean air moves easier through the system. Dry air is less likely to damage your system.
Match the Air Compression Controls
A well-designed system should use the following: demand control, storage, compressor controls, good signal locations and overall control strategy. The ultimate goal is to deliver compressed air at the lowest stable pressure while supporting fluctuation with stored higher pressure compressed air.
Improve System Design
Straighten the path
Save energy when needed
Cool the air intake
Use several smaller compressors
Recover wasted hear
Place in areas of high demand
Consider The Needs of Your Compressed Air
Examine load profile
Minimize artificial demand
Determine the pressure needed
Examine supply and demand
Use block diagrams
Use compressed air storage
Minimize Pressure Drop
Reducing pressure drops allows a system to operate at lower pressures and more efficiently. For machinery that uses a large amount of compressed air, operating at lower pressure levels will provide significant energy savings.
Maintain Your Air Compression System
Poorly maintained systems can lead to wasted energy and money. It is important to routinely check your systems for leaks, premature wear and tear and the build up of contaminants.
Maintenance, Parts, and Fluids
CB Process has a wide selection of warranty and maintenance options to ensure the maximum life of your air compression systems. These programs include everything from fluid sampling and preventive, scheduled maintenance to a full 10 year warranty extension.
We also locally stock a wide selection of genuine Quincy compressor parts and air compressor fluid products. Have peace of mind knowing that you'll never have to worry about finding the right part to keep your compressor up and running.
Genuine Quincy parts and fluids will:
Maintain your warranty
Maximize airend life with less downtime
Decrease oil carryover due to low foaming rates
Lower operating temperatures
Prevent varnish and carbon build-up
Extended drain intervals, even at elevated temperatures
Quincy Fluids – QuinSyn for rotary screw compressors, QuniCip for reciprocating compressors
Quincy Compressor Parts – oil filters, belts, maintenance kits, pump rebuild kits
Quincy Air Treatment Parts – pre/after filters, refrigerated & desiccant style dryers