Honeywell Versaflow Magnetic Flow Meters and Products
Magnetic flow meters are one of the most common flow meter technologies and is typically used to measure the flow of water based fluids that have some conductivity.  Advantages of magnetic flow meters include:
Non-restrictive and cause little pressure drop
Can be used in slurry applications
Can be used in corrosive applications
Can measure very low to very high flow rates
Honeywell VersaFlow Magnetic Flow Meters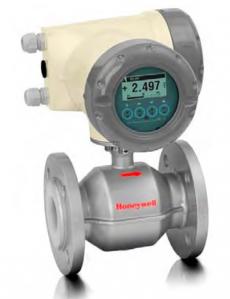 Description & Features
VersaFlow Magnetic Flow Sensors are highly versatile, customizable and offer precise flow measurement for conductive liquids, pastes and slurries. The sensors provide accurate flow measurement in a range of applications, including rapidly changing media, pH jumps, large amounts of solids or pulsating flow. ​
Straight and bent tube designs
Virtual reference ground
Conductivity down to 1 µS/cm
Empty pipe detection
Modular electronics concept
Interested in our product?
Simply fill out the form below and one of our Area Managers will contact you shortly.
Oops! We could not locate your form.