Honeywell Vortex Flow Meters and Flow Products
Vortex flow meters are a versatile flow meter technology that can be used to measure the flow of gas and liquids.  Steam is one of the more common fluids measured by vortex meters
No moving parts
Unaffected by pressure, temperature, and density changes
Rugged and reliable construction
Can measure a wide range of gases and liquids
Honeywell VersaFlow Vortex Flow Meters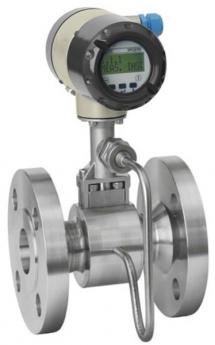 Description & Features
​A market leading process measurement device, the VersaFlow Vortex Shedding flow meter is designed with steam and gas applications in mind. With built-in temperature compensation as a standard feature and optional integral pressure compensation, it is the first choice for saturated steam, superheated steam and compensated gas flow measurement. The flow meters ability to measure low viscosity liquids and volumetric flow rate makes it a great choice for water or condensate measurement.
The VersaFlow Vortex Shedding flow meter is a two-wire design that is available in configurations for pipe line sizes from DN15 to DN100  (1/2" to 4") in a wafer design and DN15 to DN300 (1/2" to 12") in a flanged design.
2-wire device with integrated pressure and temperature
compensation
Non-wearing, fully welded stainless steel construction
with high corrosion, pressure and temperature resistance
Optimal process reliability due to Intelligent Signal
Processing (ISP)
Maintenance-free, water hammer resistant sensor design
Multi-variable with Pressure and Temperature accessible through HART
Interested in our product?
Simply fill out the form below and one of our Area Managers will contact you shortly.