SYNERGYS TECHNOLOGIES LEAKSHOOTER® LKS 1000-V.2 +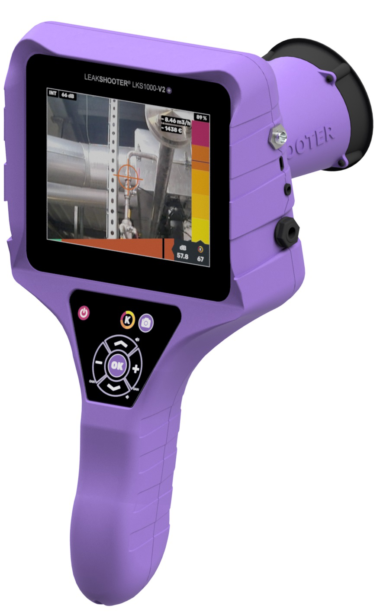 Description & Features

1st ultrasonic compressed air, gas and vacuum leak detector with camera. Specially dedicated to visualize the spots where compressed air is leaking, the LEAKSHOOTER® LKS 1000-V.2 + has many other applications such as : steam trap monitoring, bearing monitoring, electrical applications like partial discharge, corona effects, punctured isolators, electrical tracking detection.
Compressed air is a costly form of energy and 20 to 40 % of it is lost through leaks. Systematically checking for and eliminating leaks can therefore bring considerable energy savings. With LEAKSHOOTER it is extremely simple and easy to locate rapidly leaks because they are immediately visible on the screen while you're hearing at them.
The LEAKSHOOTER® LKS 1000-V.2 + is a sophisticated tool. Extremely sensitive, it is capable of finding all leaks even the smallest, including those no bigger than the size of a syringe needle, at a distance of 15 metres.
SYNERGYS TECHNOLOGIES LEAKSHOOTER® LKS1000-V3+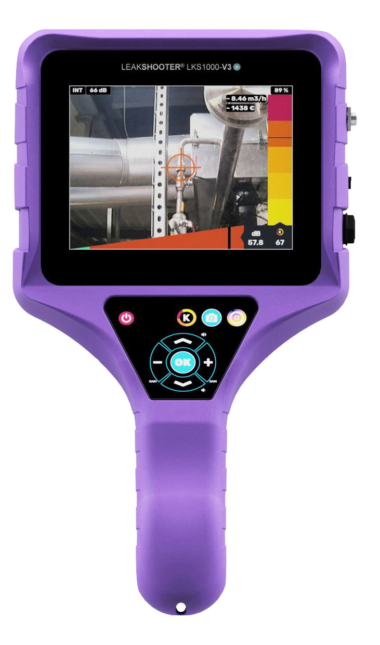 Description & Features

LEAKSHOOTER® LKS1000-V3+ is a unique and sensational detection device:
– It uses a camera and a dynamic on screen target to precisely find leak location (patent).
– It features a new concept of Steam Trap diagnostic: The STRAPSHOOTER®
The ultrasonic method is more accurate to analyze and check steam traps. The ultrasonic waves in the traps are converted into audible sounds (heterodyne function). Steam traps usually work cyclically. In the traps there is a valve which is closed when steam is in  – no ultrasound produced – and the valve opens when filled with condensate – presence of ultrasounds – .
The length of a cycle depends of the load, pressure and type of steam traps. When listening to these cycles, the processor inside the LEAKSHOOTER  analyzed the ultrasound detected and is able to check if the steam trap works or not.
Interested in our product?
Simply fill out the form below and one of our Area Managers will contact you shortly.